By Jolly Mokorosi
This book released by husband and wife duo Sheila Wise Rowe and Nicholas Rowe seems to have come on time. The book describes healing as the process of moving from need-centered relationships to Christ-centered relationships. It is conveniently divided into 12 chapters or 'wells' with a section on reflection at the end of each chapter.
From the back of the book: Whether read alone, shared one-to-one or explored in a small group, this book will help you understand why you struggle to receive what Jesus so freely gives. As the Lord brings to the surface past hurts and painful patterns, He releases you from your past, heals your pain, satisfies your thirst and empowers you to live in greater freedom, peace and purpose.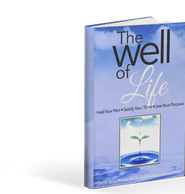 Who is this book written for?
This book has effectively been written for everyone. I would recommend it to you if you are seeking to 'remove some excess baggage', know someone who is or if you work with people. The book serves as a tool for walking through a healing journey with others. It can also empower the reader to find God's healing for herself. It is the kind of book that you buy a pile of and give away whilst hoping not to seem too obvious or offensive in your actions.
The Good
This book is available in print or on kindle. It is divided into chapters that are easy to read and you can read it as an individual or as part of a connect or home cell group. In fact my thoughts were on how it would make an ideal retreat resource. It is littered with quotes that make sense and have been well thought out. In addition there are personal testimonies of both the authors and others.
The Bad
The book is available in print in SA and the US otherwise through Kindle or contacting the publishers. So there might be limited availability in your country.
Not really a bad thing but I really had thought I would fly through this book and found myself having to put it down more often than I thought I would. I am not particularly good with having personal reflections and this book helped me look at neglected parts of my life and soul.
The Ugly
There was nothing really.
Some quotes from the book
"Maturity is learning to live in stillness with unmet needs."
"Your real, new self (which is Christ's and also yours, and yours just because it is His) will not come as long as you are looking for it. It will come when you are looking for Him…look for Christ, and you will find Him, and with Him everything else thrown in."
"[Adam and Eve's] choice to not trust and obey God absolutely and to make choices apart from Him totally disrupted their relationship with Him. As the heirs of their fallen humanity, we too make choices apart from God and have lost the ability to know God and to fully receive from Him."
"…it is hard to see God rightly when we are indulging in sin, for sin veils truth."
"The biblical standard of measuring worth and dignity is not based on the privileges we enjoy, or how light our skin color nor our ethnicity, race or gender. We have worth and dignity because God made us in His image, it was very good."
"….shame tells us who and what we aren't while God tells us who and what we are."
"We can't fully heal without being truthful."
"The inordinate attention to ourselves – what we want, what we need, what others think – is the classic characteristic of a broken and wounded heart."
"Ceaseless activity, whether or not it is well-meaning or well-intentioned, can become another source of distraction to delay our healing."
"Fatigue puts us at risk of going back to our old ways of dealing with our pain. We do well to forestall that and not give the evil one a foothold by cheating on sleep."
Resources
Facebook: The Well of Life Book
Amazon: The Well of Life